Hi crafters,
I stumbled on this super easy tutorial on
Oikolgy 101
on how to make your own blog button. I just grabbed a picture uploaded it to picnik, added some text and a boarder, and viola.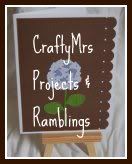 *I edited my original button to something that fit a bit better :)
I hope you like it! If you'd like to grab it for your blog the text is to the right hand side. If you're on blogger just click add a gadget and select html and paste it in the box.
I just got the NEW pink ATG gun from Michael's this weekend so I'm headed off to see what I can create with that.
Happy weekend I hope you get some crafting done.